For this week's Show & Tell, I'll do the showing, but you're going to do the telling. Read on, and after you leave a comment, mosey on over to Mel's place to see who else is showing off cool stuff this week.
___________________________

There are a lot of people in my life who know that I've been battling infertility for a long time. Some of these people are family, close friends, and coworkers. By now, just about everyone in my life knows that I'm pregnant, and they're all very happy for us. However, not all of these people know that Kev and I conceived through IVF. It's not something that we choose to broadcast for many reasons.

One reason we don't share our IVF experience with just anybody is because some people have very strong opinions, mostly based on religion, about why IVF should not be an option. I'm not saying they're wrong; I'm just saying that Kev and I obviously don't feel the same way. If you would have asked my opinion on the subject about ten years ago, I might have had a very different answer from what I have now. But fighting infertility and the heartache it has imposed for six years has made me see things differently. Now, I believe that God gave me the mental and physical fortitude as well as the monetary means to be able to pursue IVF after all our other options failed. No one can say we didn't exhaust other options. And I don't know that I could handle hearing someone telling me that my child was conceived through sin. On the contrary, our child was conceived through many years of hard work, commitment, and faith. Yes, faith.

Another reason we don't tell people we conceived through IVF is because... well, it's OUR business. Why should it matter to people who are not intimately involved in our lives how our child was conceived? What really matters is that we are finally going to bring a child into the world, right?

I know people don't mean to be insensitive, but some of the things they say really cut me. It feels like I'm being judged. It feels like my unborn child is being judged. The comments that are hardest to deal with are, "I thought you couldn't have kids" and "How did you do it? I thought you couldn't conceive naturally."

So my question is this: When people who vaguely know about my struggles with infertility ask me how I conceived, what should I tell them?

And now for your viewing pleasure, our peanut's first picture, taken about ten weeks ago. I should get another one next week!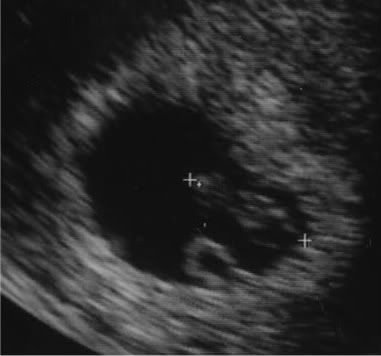 Now, I've shown you my treasure; it's your turn to tell me how I should handle questions like these.